Just received the program for the 2013 Stratford Festival season.
The line up of shows looks great.
Mrs. T. has already hinted that Santa better leave a pair of "Fiddler on the Roof" tickets under the tree.
I'm really looking forward to The Forum, the Festival's new lecture / event series.
I know it'll broaden my horizons, plus, in Stratford these types of events generally feel more intimate than when they take place in big cities. I don't know if it's the fact that the speakers are more relaxed in the gorgeous Stratford setting, but whatever the reason when given the chance I'll attend a speaking enegagement or musical event in Stratford before Toronto.
Here are a few quick highlights.
Shakespeare in Kabul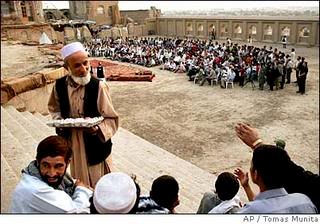 A vendor sells boiled eggs during a performance of
Shakespeare's 'Love's Labor's Lost' in Kabul's Babur Garden.
Via newsrackblog.com
Stephen Landrigan and Qais Akbar Omar will be discussing Shakespeare in Kabul, in the Festival Theatre lobby, Thursday, August 22, at 11 a.m. Admission is Free.
Landrigan and Omar helped to stage a remarkable production of Love's Labour's Lost in Afghanistan in 2006. Landrigan, an aid worker and playwright, adapted the script, while Omar, a writer and carpet designer, was assistant director. The play was performed by Afghan actors in the Dari language, and it was the first time in a generation that men and women appeared on the stage together.
Geraint Wyn Davies Wordplay
One event that's sure to please Festival fans is a series of dramatic readings by Festival favourite Geraint Wyn Davies.
It's called "Wordplay" – The venue and dates are to be announced. Members of the company will join host Geraint Wyn Davies for a series of dramatic readings. Admission: $25.
Another promising event is the panel:
The Power of Women / Women in Power Sunday, August 18, at 7 p.m. in the Studio Theatre Annex, with author, playwright and activist Susan G. Cole; scholar Margaret Jane Kidnie and other panellists to be announced.
Cole is a pioneer in the Arts; in 1991 her hit comedy A Fertile Imagination debuted at Nightwood Theatre, Canada's premiere women's theatre company. It was subsequently produced at 7 venues across Canada. Currently she's the Senior Entertainment editor, at NOW Magazine in Toronto.
Kidnie, a professor at UWO, lectures and has written extensively on Shakespeare.
Admission: $10.
These are just a few of the many really exciting events scheduled for The Forum.
I'll write about a few other favorites in the coming weeks.
In the meantime, the entire event program is here.
Don't forget Stratford's new daily bus service to and from Toronto.